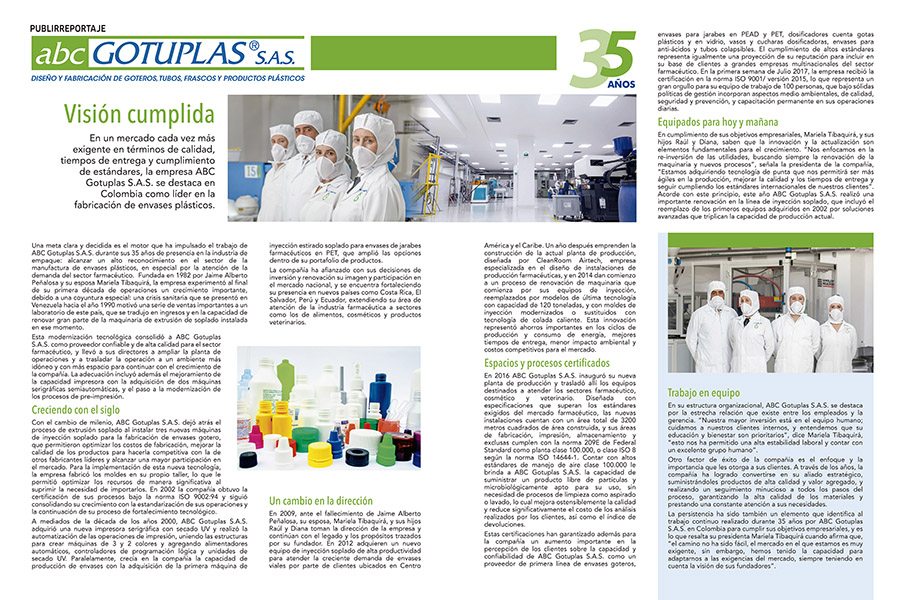 Previously, there were no standards, as it was a brand-new market. Over time and as his children grew up and received education, his wife, Mrs. Mariela Tibaquirá, was gaining knowledge about the family business.
In 1998, our company started to comply with the quality standards required by law and customers, under the management of the Engineer Juan Carlos Peñalosa Tibaquirá (RIP).
Since then, our main pillar became to provide high quality pharmaceutical products to our customers at a a competitive price, following the BUREAU VERITAS standard.
Our Quality Management System is currently certified by BCVQI under ISO 9001:2015 standard.
We supply and assist in the design and manufacture of plastic products especially for the pharmaceutical, homeopathic, cosmetic and veterinary industries, complying with the quality standards required for each industry.
QUALITY – SERVICE – PRICE
We supply and facilitate the design and manufacturing of plastic products, especially for the pharmaceutical, homeopathic, cosmetic, and veterinary industries, meeting the required quality standards for each industry, based on the tripod balance philosophy of "Quality, service, and price."
By 2025, at ABC Gotuplas S.A.S., we will be leaders in the manufacturing of specialized plastic packaging for the pharmaceutical sector at the national level, strengthening our presence in the countries where we currently export and expanding it to countries where we don't have a presence yet, such as Honduras, Panama, the Dominican Republic, Bolivia, and Chile. We will achieve increased profitability, committed to environmental sustainability by using clean technologies and generating projects that comply with the circular economy while maintaining product quality and developing specialized products. With our customers in mind, we will be a company with a trained, happy, healthy workforce that stands out for its leadership and honest and secure behavior.